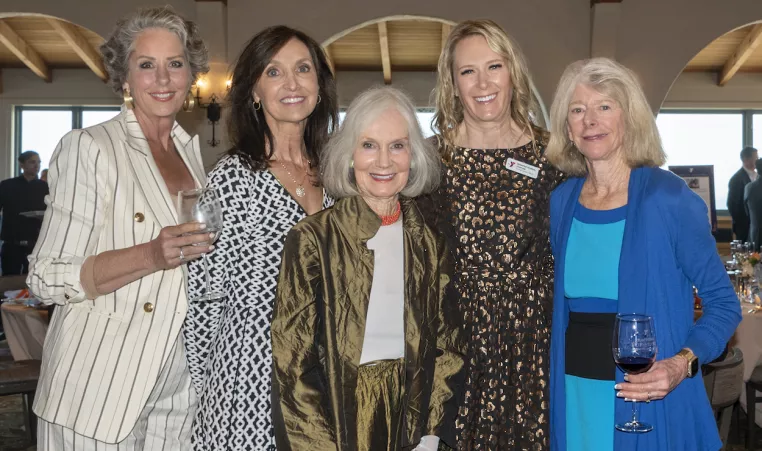 The Channel Islands YMCA Youth & Family Service (YFS) held their 23rd annual fundraising event titled, Reaching for Stars, at the Cabrillo Pavilion on Wednesday, April 26. The event funds its five-tiered service programs for youth through age 24: Youth and Family Services, Noah's Anchorage Youth Crisis Shelter, St. George Youth Center, My Home, and Haley Street Navigation Center. These pivotal programs have aided countless youth with shelter, food, clothing, healing, enrichment programming, and recreation to those in need.  Some are open 24/7. The programs help over 600 children and youth annually.
Attendees were treated to a five-course gourmet dining experience created fresh by local star chefs like the Wine Cask's Josh Brown, Caruso's Paul Osborne, Oliver's Manny Juan, and were assisted by the local culinary schools' students. Libation sponsors were Brander Winery, Fess Parker Vineyard, Draughtsmen Aleworks, Casita de Bravo, and Topa Topa.
During the dinner, keynote speaker Marriage & Family Therapist Lisa Conn-Akoni talked about the youth programs and the current data for homeless youth in Santa Barbara, of whom 57 percent are pre-K to grade 5, 23 percent are grades 6-8, and 19.2 percent are grades 9-12. They suffer family conflict, emotional, and sexual abuse and "…almost all homeless youth say they are forced out of their homes."
The honorary chair was George Leis, President and COO of the Montecito Bank & Trust. He talked about learning to swim at the Long Island Y and has volunteered at our local Y for 15 years. He emphasized the importance of its programs for our youth and its ultimate impact on our community. He presented the MB&T's founder Michael Towbes' mission that, "… it is our corporate responsibility to invest in our community," and their 20-year Community Dividends program which awarded $2 million last month. He encouraged everyone to generously contribute to the Y's programs.