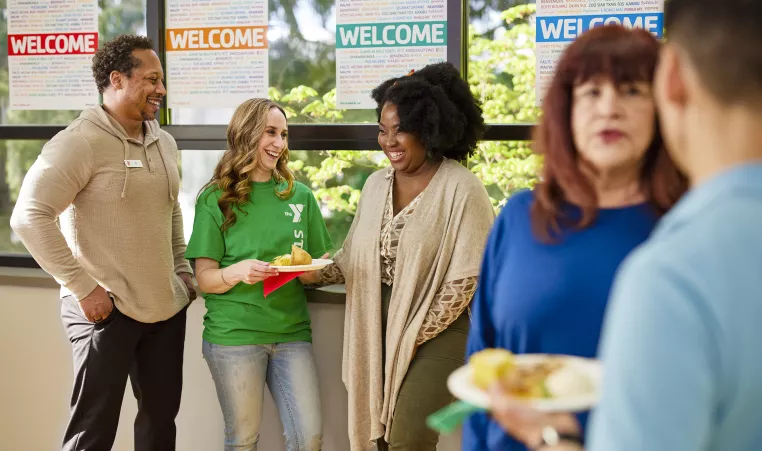 At The YMCA We Celebrate Different Traditions
Growing up, many of us were comforted by our own family's holiday traditions. Our sense of home was influenced by smells, tastes and traditions of our families. As we grow up and interact with more people from various backgrounds and cultures, we learn that there are many different ways to celebrate the holidays.
For example, we can find ourselves celebrating a "Friendsgiving" due to us being far away from home or for other various reasons. These new traditions let us come together during the holidays and make new memories. Here at the Y we are able to find and connect with all walks of life. We learn from each other's cultures and families which opens up the topic on how we celebrate the holidays.
In a diverse world such as ours, we are truly stronger when we are inclusive, welcoming and celebrating all. This is something we strongly believe here at the YMCA. The strength of our diversity becomes beautifully apparent during the holiday season in so many wonderful ways.
At the Santa Barbara YMCA, we are intrigued by the traditions that friends and co-workers have shared with us over the years. Understanding how distinctly different, yet equally special. December holidays across the country and around the world has inspired us at the Santa Barbara YMCA to share what other holidays our members celebrate.
HANUKKAH
Hanukkah can also be spelled Chanukah. Hanukkah is a Jewish eight-day, wintertime "festival of lights," celebrated with a nightly menorah lighting, special prayers and fried foods. The Hebrew word Chanukah means "dedication," and is thus named because it celebrates the rededication of the Holy Temple.  The number eight represents the number of nights that, according to Jewish tradition, a small amount of oil miraculously burned providing light for the Maccabees to revolt and rededicate the Second Temple in Jerusalem. Traditions include lighting the menorah, frying potato pancakes (Latkas), Playing dreidel which includes prizes, Hanukkah Gelt (foil wrapped chocolate coins), and gift giving.
KWANZAA
Kwanzaa, meaning "first," derived from "first fruits of the harvest," is a week-long (December 26 – January 1) secular holiday that celebrates African heritage. It was created in the 1960s at the height of the Civil Rights Movement. Each of the seven days is marked with a candle lighting representing seven principles: Umoja (Unity), Kujichagulia (Self-Determination), Ujima (Collective Work and Responsibility), Ujamaa (Cooperative Economics), Nia (Purpose), Kuumba (Creativity) and Imani (Faith). Traditions for kwanzaa include singing, dancing, storytelling, poetry reading, African drumming and having a feast that celebrates cultural expression.
THREE KINGS DAY
Three kings day known in Spanish as El Día De Los Reyes. Is celebrated on January 6th. January 6 marks the 12th day of Christmas celebrated in Spain, Latin America and many Hispanic communities across the United States. At the end of the Twelve Days of Christmas comes a day called the Epiphany, or Three Kings Day. This holiday is celebrated as the day the three wise men first saw baby Jesus and brought him gifts. The holiday is marked with many traditions, including gift exchanges, parades, baking of bread and other festivities. In some families, small gifts are left inside children's shoes, which are left outside the door.
FEAST OF THE SEVEN FISHES
Italian Americans often celebrate Christmas Eve with many plates of food, including what is known as "The Feast of the Seven Fishes" or Festa dei sette Pesci. This tradition was born out of the Catholic tradition to abstain from eating meat (poultry or beef) leading up to Midnight Mass on Christmas Eve. Instead, many Italian Catholics consumed fish, which turned into a holiday tradition. As a copious amount of food is central to Italian culture, many Italian American households serve more than seven dishes, including squid, cod, blue crabs, scallops, octopus, shrimp, clams, oysters, lobsters and more.
Written by: Alexia Mendoza, Administrative Clerk at Santa Barbara Family YMCA