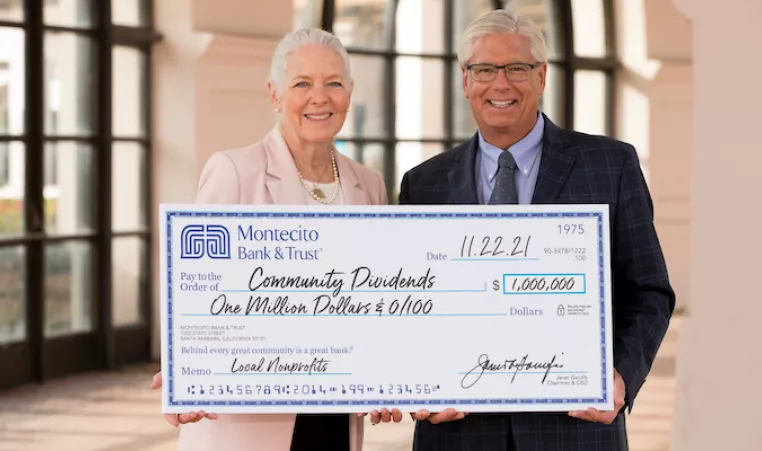 Montecito Bank & Trust kicked off the holiday season on Monday November 22, 2021, as it has for the last 19 years, with the special annual tradition of the Community Dividends awards luncheon. Through this unique giving program, the Bank has granted more than $19 million to local Santa Barbara and Ventura County nonprofit organizations. The Community Dividends $1.2 million investment in the nonprofit community accounts for the majority of the Bank's annual total investment nonprofit giving of $1.5 million.
Chairman & CEO, Janet Garufis, welcomed 179 nonprofit leaders from Ventura and Santa Barbara counties to the Community Dividends luncheon at the Hilton Santa Barbara Beachside Resort. She expressed gratitude for the work nonprofit organizations do to lift up communities even when it seemed nearly impossible. "Every year we give thanks for you, but this year we are especially grateful for you, for your staff and your boards and for your commitment to your missions. You did make a difference. You are making a difference"
The nonprofit leaders were joined by the Bank's board and leadership team, in addition to the specially-trained MB&T Associates who dedicated the last 20 months to the MB&T Relief Center and were responsible for issuing Paycheck Protection Program (PPP) loans to a vast majority of the nonprofits in the room. It was a celebration of gratitude, perseverance and partnership.
"The lessons of the last 20 months inspire us to keep looking forward to what's possible. We have learned a lot - about ourselves, our communities and how a business or an organization can adapt at critical moments, reinvent themselves and persevere through change," said Garufis.